Aww, no more Supernatural. I'll have to get my fix by fanfic. At least Sam has seen the error of his ways even if it was a bit late. And yay, Ruby is gone. She was starting to bug me big time. Next year they will have to face the ultimate bad guy. It's up to Dean. Will they solve it quick in the year or need the whole season to face off with him? Stay tune. But now I have to face all of summer without them. Wahhhh.
I have been doing a lot of reasearch of late and I mean no disrespect toward anyone who beliefs I may touch on. No offense is intended. This is taken seriously and so this may come up from time to time.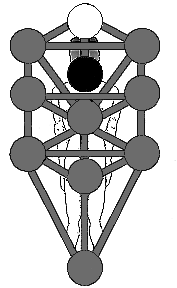 Identified by Kaballah as "the Sephirah Kether," this Sphere of Aura-energy encompasses the top of the head, dome of the skull, upper brain-tissues and metabolic glands; any or all of which can become 'sore' or traumatized by a crisis of OVERVIEW, PERSPECTIVE and "OUTLOOK."
The Sephirah (or Branch of The Tree Of Life) called KETHER in Kaballah connects the individual with "Macroprospectus" or the ability to see the Whole of one's reality from the perspective of our Creator.
Keter is so sublime, it is called in the Zohar "the most hidden of all hidden things", and is completely incomprehensible to man. It is also described as absolute compassion.
Keter
- Crown - Divine Plan/ Creator/ infinite light/ Ehyeh Asher Ehyeh - I AM THAT I AM (Supreme/ Total Consciousness
| | | |
| --- | --- | --- |
| Sephira | Disease | Vice |
| Kether | Lifelessness, soul-less | Confusion |